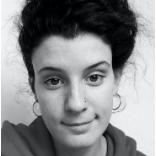 Anna Argiros
3rd Assistant Director, Production Assistant, Runner
Profile
Location: London
I am a professional, calm, attentive and conscientious crew member.
I love hard work and am always willing to muck in to get things done, never shying away from the tasks at hand.
I like to take initiative and will often try to identify and solve problems on set without needing extra instruction from production or the 1st AD.
I am happy dealing with crew as well as handling production and client needs and requests.
I'm looking forward to working with you soon!