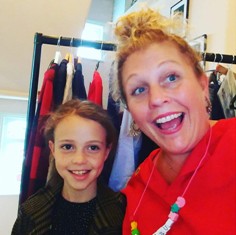 Susannah Boughtflower
Child Wrangler
Profile
Location: London
Susannah Boughtflower runs the Kids on Set company and has worked around the world wrangling babies and children.
Susannah can prepare children for their roles, help In The Casting Process, work off set keeping them quiet and regulated and preparing them for their performances and wrangle and direct them in front of the camera.
Children can often be disorientated and unpredictable on set, and in need of guidance, which is why Susannah's services are crucial. She uses specialist techniques and employs games and role-play to aid the children in the delivery of lines, responses and reactions, whether the shot requires puzzled faces, awe, a loving look, whatever is required.
Susannah will keep the children happy and comfortable, whilst keeping the atmosphere friendly and fun, and most importantly keep the children focused.
Testimonials:
"Tantrum employed Susannah for a VW shoot involving a number of small children. By entertaining them off camera she kept them at a level that meant they were happy and relaxed but not expending too much energy and therefore "burning out" before being required in front of camera. Sue then, standing off camera, elicited exactly the right response from our children who had to repeat a move over and over again. She completely understood the level of performance we were after and having her with us on the day was extremely helpful. Sue is a lovely intelligent person and I would recommend her very strongly for any shoot involving filming children." – Charlie Watson, producer, Tantrum Productions
"Working with kids on a film set can often be fraught, but with Susannah and her team around the children are relaxed, happy and ready to perform in front of the camera." – Laurie Castelli-Gair, director
"Hi Susannah. Really great to meet you. Your ability to make the toddlers and parents feel at ease on set was amazing. It was also such a relief to have someone who is aware of the film process and set etiquette it really helped the shoot go smoothly. Not only did your experience shine through, your happy ways and great personality were a pleasure to be around.Hopefully we will have chance to work together in the near future." – Dan Precious, assistant director
Hi Susannah. Hope all good with you. It was great working with you last month. It was my first experience on a filming set with my 1 year old twins and I couldn't have done it without you! Thank you for all your help and assistance. I would thoroughly recommend your baby wrangler services to anyone filming babies and children – your knowledge, experience and kind nature helped the filming days to run very smoothly, and my twins loved you! Thank you." – Michelle, James and Sophie (mum and children)
Showreel
https://www.youtube.com/embed/PQ7CM8nEXN8
https://www.youtube.com/embed/aEOkN4UhTuY
https://www.youtube.com/embed/rWWHgmzyjL4